Tomato Paste-Fruit Concentrates & Frozen
This company, enjoying highly skilled staff provides you with tomato paste made of best quality, red, sound and delicious tomatoes of the right season. This company with the average export amount of 6000 tons annually, exports high quality tomato paste with the following specifications :



1. Hot Filled (in bulk):
A. Brix: 36-38
B. Brix: 38-40

2. Cold Filled (aseptic):
A. Hot Break (Brix: 28-30)
B. Cold Break (Brix: 36-38)

3. In Can:
A. 500 gr. can
B. 1000 gr. can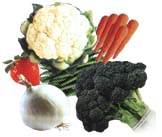 The company also provides its kind customers with Frozen Fruits, Vegetables and Summer crops such as frozen green-peas, green-beans, carrots, onions, potatoes, cauliflowers, broccoli, strawberries, cherries, black cherries and etc., produced by Individual Quick Freeze (I.Q.F.) method. These products are made from ripe and sound fruits, vegetables and crops of high quality every year. Fawakeh company exports over 4000 tons of the said products each year.

The Company with its high technology, also supplies fruit concentrates such as apple, grape, black cherry and orange concentrates every year. The most delicious and fine fruits are concentrated each year and are delivered to the respected customers every where in the world, regarding their orders.
The Company will appreciate any orders from all around the globe.
For further information donít hesitate to contact us: